Fans asked for shorter fences and they got them. You wanted them blue? Done! The Mets have been in a listening mood lately and yet on the issue most important to Mets fans who attend games at Citi Field the team remains shamefully silent. I am speaking of course about urinal dividers...or the lack thereof.
Why do we need urinal dividers?
A recent poll showed that a astonishing 64% of male fans who attend Mets games cannot use the urinals due to a crippling fear that someone may sneak a peek at the sausage. This leads to longer lines at stalls and people spending more time away from their seats which translates to a poor stadium atmosphere.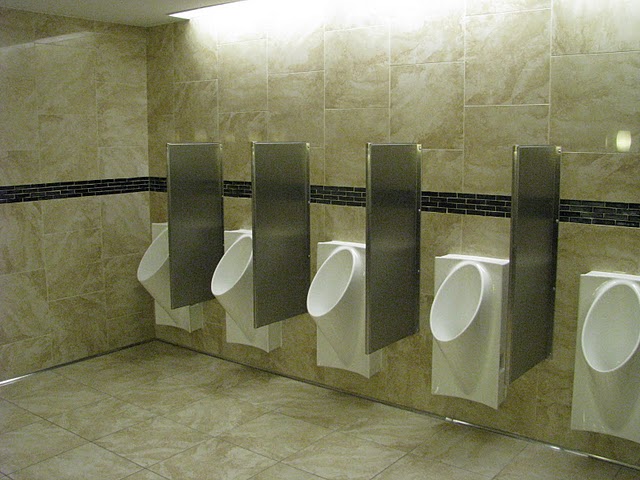 Isn't this everyone's problem?
Shockingly no. Had the Mets chosen simply to not have any dividers at all then it would simply be a design choice and we could live with that but the shocking truth is that there ARE areas where urinal dividers are already in place. It should come as no surprise that these are located in the more upscale sections of the ballpark as seen in this photo of the Caesar Club men's room. The Mets are essentially saying that splashback and inadvertent wang glances are a problem of the poor and that they don't care enough about the average fan's comfort while urinating. Want some bathroom privacy? Buy a club package the Mets will tell you.
What can we do?
Individually our voices can be ignored by the Mets, but together they have to hear our demands. Join The Apple's new Super PAC
Mets Fans For Urinal Dividers
on Facebook and lets tell the Mets that "We are the 99% and we're tired of seeing everyone else's 1%"
All articles featured on The Apple are fictitious but the need for urinal dividers is frighteningly real. No Mets were harmed in the writing of this story.
Follow me on Twitter @readtheapple.