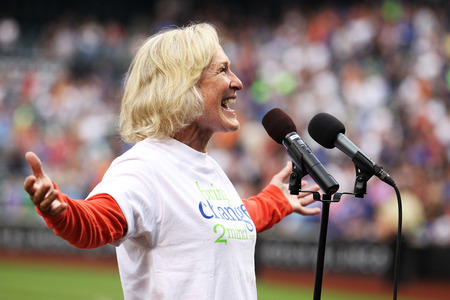 If there's one thing my good friends over at MetsPolice have taught me, it's that if you complain publicly about some minor and ultimately unimportant thing the Mets will probably listen (see Banner Day). Until now, I have not felt strongly enough about any cause to go to take to my blog about it...until now.
On April 5th, the New York Mets will open their season at Citi Field. We know the opponent: The Atlanta Braves. We know the giveaway: a 25 cent magnet. What we don't know is who will sing the anthem, but I know who should.
Glenn Close, from Mars Attacks and probably other stuff, has performed the National Anthem at 10 Mets Opening Days and has performed it at both the 1986 World Series and 2006 NLCS. She became the last person to sing at Shea Stadium when she sang God Bless America at the Mets final game at Shea in 2008. Yet, when Citi Field opened the following year we were greeted by the cast of West Side Story instead (presumably the highest bidder for the "honor").
Close has returned to Citi performing the anthem last July but as yet has not been asked back to do the opener. Well that just won't do. Mets fans, I call on you to take to your blogs, Twitter, Facebook pages and MySpace pages (for that one guy who still uses Myspace. You know the guy I'm talking about) and demand that the Mets bring Glenn Close back for Opening Day this year.
Together we can make this minor thing happen!
Follow me on Twitter @readtheapple.